State By State
Hawaii Auto Insurance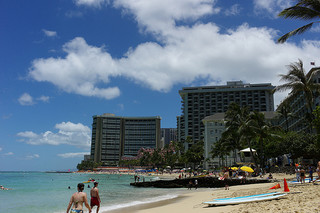 Hawaii uses a No-Fault auto insurance system, which means that your insurance company will pay for your medical expenses if you get injured in an accident, regardless of who was at fault.
Minimum insurance requirements
Hawaii requires all drivers to hold Liability coverage of 20/40/10:
$20,000 per injured passenger, but not more than $40,000 per accident;
$10,000 to cover property damage.
Hawaiians are also required to hold a Personal Insurance Protection policy with minimums of at least $10,000. Since Hawaii is a no-fault state, the PIP will act as primary coverage if you get injured in an accident, followed by the at fault party's Bodily Injury Liability policy.
Average insurance costs
Hawaii is one of the cheapest states to be insured in, with an average of only $1,202 per year, much lower than the national mean of $1,678. Here are some average figures in some noteworthy cities across the state: Kahului: $922, Waipahu: $1,100, Pearl City: $1,353, Kaneohe: $1,407, Honolulu: $1,256, Hilo: $1,164.
Laws about the use of cellphones when driving
There are no state-wide regulations regarding texting and the use of a cellphone when operating a vehicle. Hawaii County and Honolulu do require drivers to wear a hands-free device when driving.
Teenage driving laws
Much like the rest of the country, Hawaii uses the Graduated Driver License (GDL) system to introduce teenagers to driving while minimizing the risk of accidents. Residents may join the program once they are 15 and a half years old and, by the time they turn 18, they will be facing several restrictions:
they may not drive between 11pm and 5am, unless accompanied by a legal guardian with a valid driver's license and sitting in the passenger's seat; as an exception, kids may drive unattended between these hours if they are on the road to/from work or school;
all occupants must wear seatbelts at all times;
they may not carry more than one passenger under 18, unless they are accompanied by a parent or legal guardian.
Penalties for driving uninsured or underinsured
Fines for driving without insurance in Hawaii start at $1,000 for the first offense and may go all the way up to $3,000 for the second one. Upon each subsequent offense they may go up even more. Fines won't end all your problems – the court may rule to have your driver's license suspended for three months if this is your first violation, or up to one year if not.
Your vehicle may also be impounded if you have had more than one violation in a five-year period. It will then only be released back to you once you can provide proof of valid insurance (or it will be released to the legal owner if it's a financed or rented vehicle).
Moreover, repeated offenders may be sent to prison. At the judge's discretion, you may be sent to jail if you have been caught driving uninsured at least twice in a five-year period.