Basics
How Does Car Insurance Work?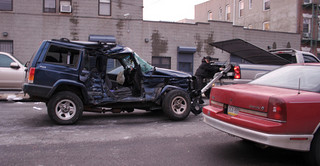 Car insurance is made to protect traffic participants, be they drivers, pedestrians or passengers. When an accident occurs, the insurance company has to take care of expenses related to reinstating the property at its previous state as well as taking care of the medical expenses people may need. Lost wages, as well as compensation for pain and suffering are covered by certain policy types.
How does a car insurance company work?
In exchange for this kind of protection, the car insurance company charges an amount also known as the premium. As a driver you have the option to pay for such services yearly, twice a year or quarterly.
You probably know that you need some form of insurance if you own a car. Forty-seven states in the US require that you have some form of insurance to protect others and yourself from unforeseeable events like a car accident.
The main types of auto insurance
Liability insurance is the minimum form of insurance you can get. It protects the other drivers, their passengers and their property if you are at fault in an accident. It does not protect your car, it doesn't take care of your medical bills and doesn't cover your passengers.
Collision/comprehensive insurance will repair your car regardless of who was at fault in an accident. It will also protect you from theft vandalism or collision with animals or nonmoving objects.