State By State
Idaho Auto Insurance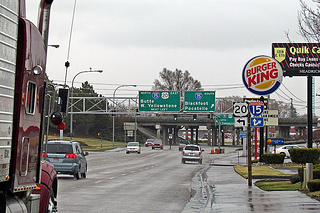 Idaho uses a Tort insurance system, which means that whoever causes a car accident must pay for the material damage and medical expenses for the injured parties. Victims may also pursue compensation for lost wages or pain and suffering.
Minimum insurance requirements
Idaho requires all drivers to hold at least a Liability insurance of 25/50/15:
$25,000 per injured passenger, but not more than $50,000 for the whole accident,
$15,000 for property damage incurred after the accident.
Uninsured/underinsured motorist coverage is included in a standard Liability policy, so you don't need further insurance.
Average insurance costs
Boise is one of the cheapest states to be insured in, with an average of only about half the national mean: only $832, compared to $1,687. Insurance in major cities may cost more – the average Liability coverage in Boise, for instance, costs $1,258, in Nampa $1,307, $1,157 in Idaho Falls, $1,281 in Caldwell, $1,177 in Lewiston, $1,308 in Meridian
Use of cellphones when driving
Idaho Senate has passed a bill that puts a ban on text-based communications for drivers who are operating a vehicle. There are no further restrictions on the use of mobile phones, but hands-free devices are always recommended when driving a car. More details on cellphone driving laws in Idaho and other states are available here.
Teenage driving regulations
Idaho uses the Graduated Driver License (GDL) system, a concept that tries to keep teenage drivers away from risky situations and introduces them gradually to driving. Aspiring drivers may get a learner's permit once they are 14 and a half years old. By the time they turn 17, they are subject to some restrictions:
they must always be accompanied by a grown-up licensed driver;
they may not carry more than one passenger below 17; direct family members are an exception;
all their occupants must wear seatbelts;
Penalties for driving uninsured
Upon the first violation, you will be required to file a SR22 certificate for one year. The filing term goes up to three years for a second violation within five years.
First-time offenders will also be fined $75.00. All subsequent violations within a five year period of time are considered misdemeanors, are subject to fines of up to $1,000, jail time of up to 6 months, or both.