State By State
Illinois Auto Insurance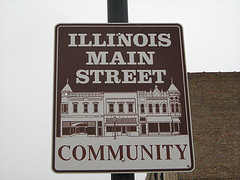 Illinois follows a Tort insurance system, which means that whoever is found at-fault for causing an accident must pay for the damages as well as the medical bills of every injured passenger or pedestrian involved.
Minimum requirements
The minimum requirements for auto insurance in Illinois are of 20/40/15 in Liability and 20/40 Uninsured/Underinsured Motorist coverage:
$20,000 per bodily injury of one passenger when you were at fault, but not more than $40,000 for the whole accident,
$15,000 in property damage for others (damaged cars, but also non-moving objects like fences, poles, carts or kiosks)
$20,000 per bodily injury of one passenger, if the driver at-fault wasn't insured, but not more than $40,000 per accident.
Average insurance costs
The mean insurance in Illinois costs $909, which is much lower than the national average of $1,678. More expensive cities are to be found: Liability costs $1,290 in Chicago, $1,008 in Rockford, $1,178 in Aurora, $1,132 in Joliet and slightly above $1,000 in Springfield.
Cellphone restrictions
Text-based communications while operating a vehicle are banned state-wide. New drivers under 18, as well as school bus drivers, aren't allowed to use cellphones altogether. All other traffic participants must use hands-free devices when making or answering a call.
Teenage driving regulations
Illinois uses the Graduated Driver License (GDL) system, a concept meant to keep high-risk situations down to a bare minimum for young and inexperienced drivers. GDL is meant for drivers between 15 and 17 and comes with several restrictions:
they cannot drive between 10pm and 6am;
cellphones may only be used for emergencies while operating the vehicle;
all passengers below 19 must wear seatbelts.
Penalties for driving uninsured or underinsured
Driving uninsured or without enough insurance is a petty offense that is sanctioned with a fine between $500 and $1,000 upon conviction. You may also have your license suspended for up to three months, after which you will be required to pay a reinstatement fee of $100.
If you cause an accident when driving without insurance you could be charged with a Class A misdemeanor, resulting in a maximum fine of $2,500 and up to one year of prison time.