State By State
Maine Auto Insurance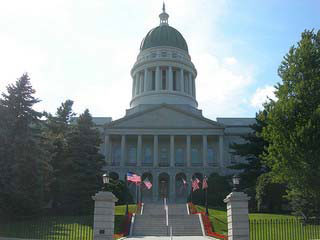 Maine follows a Tort insurance system. If you cause a traffic accident, you and your insurance company will be responsible for covering the medical expenses of all injured passengers, as well as the repair costs of all vehicles involved.
Mandatory insurance requirements in Maine
Maine comes with some of the highest insurance requirements in the country. The minimum coverage is Liability of 50/100/25 and Uninsured Motorist of 50/100:
$50,000 in bodily injury per passenger, but not more than $100,000 for the whole accident,
$25,000 for damaged property,
$50,000 for medical treatment of an uninsured at-fault driver, but not more than $100,000 for all uninsured drivers who shared the fault.
Average insurance costs in Maine
Despite the high requirements, Maine isn't a very expensive state to be insured in. The average Liability quote is of only $938, much lower than the country average of $1,678. Insurance is a bit more expensive in major cities, but most of them are still below the national median. A Portland resident, for instance, would pay around $1,048 per year, one in Lewiston $1,418, Biddleford only $1,196 and South Portland around $1,011. More expensive cities are to be found though – insurance in Auburn, for example, costs $1,996.
Use of cellphones when driving
The Maine Senate has ruled that new drivers of 18 or younger may not use a cellphone altogether when operating a vehicle. No further bans are set. All other drivers should, however, use a hands-free device when engaging in a phone conversation.
Teenage driving laws
Maine uses the Graduated Driver License system for underage aspiring drivers. The concept is made to help them get used to operating a vehicle on public roads while still keeping them out of risky situations. The GDL is meant for teenagers of at least 15 years old.
Several restrictions apply to the new drivers who are holding a provisional permit:
they must be accompanied at all times by a licensed driver aged 20 or more, who has already had the license for two or more years;
they may not drive between midnight and 5 am;
Violating these restrictions may lead to the extension of the restriction period for another six months.
Penalties for driving uninsured
Being caught without insurance in Maine is a traffic infraction. You will receive a fine between $100 and $500 and your license and vehicle registration certificate can be suspended until you show proof of financial responsibility or whatever else the court may rule. Subsequent violations will lead to even harsher penalties and you may even end up facing jail time.