State By State
Minnesota Auto Insurance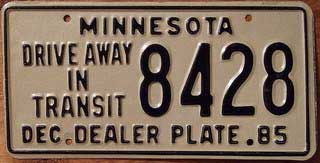 The state of Minnesota uses a No-Fault insurance model, which means that your insurance company will reimburse you for your property losses and cover your medical bills regardless of who was at fault in the accident.
Minimum insurance requirements
The minimum insurance requirements in Minnesota are as follows:
Bodily Injury Liability coverage: at least $30,000 per passenger, up to $60,000 per accident;
Property Damage Liability coverage: at least $10,000;
Uninsured Motorist Liability coverage: $25,000 per passenger, up to $50,000 per accident;
Personal Injury Protection: at least $40,000.
Average insurance premiums in Minnesota
Minnesota residents spend an average of $1,681 per year on car insurance, which is quite close to the national average of $1,678. Premiums in major cities are more or less in line with the state figures. For example, insurance costs $1,543 in Bloomington, $1,619 in Coon Rapids, $1,653 in Minneapolis, $1,445 in Saint Joseph, $1,806 in Brooklyn Park, $1,622 in Plymouth or $1,695 in Saint Paul.
About driving and using cellphones
All forms of text-based communication while operating a vehicle are forbidden. In addition, teenage drivers and school bus drivers aren't allowed to use cellphones altogether when driving a car.
Teenage driving regulations
Minnesota uses the Graduated Driver Licensing (GDL) system, a concept meant to gradually introduce teenage drivers to driving on public roads and keep them safe from risky situations.
Aspiring drivers may ask for a Phase I (Instructional) Permit once they have turned 15, have completed at least 30 hours of theoretical instruction and are enrolled in an approved driver education course. When driving on public roads, they must be accompanied by a parent, legal guardian or designated grown-up licensed driver at all times.
A Phase II (Provisional) License may be received once the kid has turned 16, has held a Phase I Permit for at least six months and has completed a driver education course. Provisional License holders may not drive between 12 am and 5 am unless accompanied by a licensed adult of 25 or older.
The Phase III (Full) License may be received once the kid has turned 18, has held a Phase II Permit for at least one year and has kept a clean driving record.
Penalties for driving without insurance in Minnesota
Driving without insurance in Minnesota is a misdemeanor. The penalties include fines, possible jail time and loss of your driving and vehicle registration privileges:
the court will fine you between $200 and $1,000;
if your crime had aggravating circumstances, the court may rule up to 90 days of prison time;
subsequent violations are considered gross misdemeanors and may be sentenced with up to $3,000 in fine, up to one year in prison or both.