State By State
Rhode Island Auto Insurance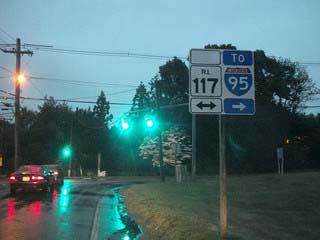 The state of Rhode Island uses a Tort insurance system. Whoever is found at fault in an accident must compensate the other parties for their material losses and, eventually, pay for their medical expenses.
Minimal insurance requirements
Liability insurance and Uninsured/Underinsured Motorist Coverage is mandatory in Rhode Island. The minimum limits are 25/50/25 for Liability and 25/50 for UM:
$25,000 in bodily injury liability per injured passenger, but not more than $50,000 for the whole accident;
$25,000 to cover property damage;
$25,000 per injured passenger if the driver at fault wasn't insured or didn't have enough coverage, capped at $50,000 per accident.
Average insurance quotes in Rhode Island
Rhode Island residents spend slightly more on car insurance than the rest of the country. The average insurance policy in RI costs $1,810 per year, whereas the mean figure across the country is of only $1,678.
Some cities in Rhode Island are among the most expensive in the United States, with rates way over the $2,000 mark. Averages are, for instance, of $2,533 in Providence, $2,320 in Warwick, $2,322 in Cranston, $2,606 in North Providence, $2,387 in East Providence or $2,367 in Pawtucket. Newport is one of the cheapest cities to be insured in, with an average quote of only $1,283 per year.
Use of cellphones when driving
The state of Rhode Island has taken stance against distracted drivers. Every form of text-based communication is banned in RI and, should you be caught texting and driving, you can be fined between $100 and $350. Moreover, school bus drivers and teenage drivers under 18 aren't allowed to use a cellphone altogether when operating a vehicle.
Teenage driving regulations
Rhode Island uses a Graduated Driver Licensing (GDL) system for teenage drivers between sixteen and eighteen. Provisional permit holders must be accompanied by a licensed driver of legal age at all times, may not drive between 1 am and 5 am unless on their way to/from school, work or a religious event and may not carry more than one underage passenger except for immediate family members.
Penalties for driving without insurance in Rhode Island
Rhode Island laws require continuous coverage for all registered cars. Letting an insurance policy lapse will have the DMV suspend your driving privileges and you will get a $500 fine (amount as of February 2012). In addition, the court will ask you to file a SR22 certificate for three years.