State By State
West Virginia Auto Insurance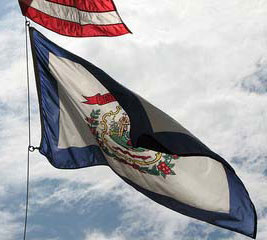 West Virginia uses a Tort insurance system. Drivers found at fault in a car accident, together with their insurance carriers, are responsible for covering the material damages caused and, if necessary, paying for everybody's medical treatment as well.
Minimum insurance requirements
The state of West Virginia asks its residents to carry at least a 20/40/10 Liability insurance and a 20/40/10 UM policy:
$20,000 per passenger injured either by you in an accident where you were found at fault, or by an uninsured or underinsured motorist, capped at $40,000 for the whole accident,
$10,000 to cover property damages caused by you or by an uninsured/underinsured driver.
Average insurance quotes in West Virginia
West Virginia residents typically pay above-average rates for car insurance. The median quote in the state is of $2,179, while the rest of the country pays around $1,678. Rates vary, however, from one county to another and may also fluctuate on a monthly basis, so there is still hope that you might pay much less.
In no particular order, here are the current prices in some cities across the state: $1,799 in Charleston, $1,747 in Huntington, $1,838 in Parkersburg, $1,796 in Clarksburg, $1,712 in Martinsburg, $1,688 in Fairmont, $1,723 in Morgantown, $1,870 in Weirton.
About driving and using a cellphone
The state of West Virginia has yet to consider some laws to prevent distracted driving. As of now, the only restriction in place is that drivers in the GDL program may not use cellphones altogether while operating a vehicle.
Teenage driving regulations
West Virginia uses the Graduated Driver Licensing system (GDL), a concept meant to help aspiring drivers of at least 15 years old gain hands-on experience with driving on public roads while still being safe from high-risk and stressful situations. Provisional license holders are subject to a few restrictions:
they may only drive if accompanied by a licensed driver of at least 21 years old;
they may not carry more than two passengers, other than the supervising driver;
everybody in the car must wear seatbelts;
they may not drive at night — between 10 pm and 5 am;
Penalties for driving uninsured in West Virginia
Driving without insurance in West Virginia leads to administrative and criminal penalties. The vehicle registration will be suspended automatically, and you will be charged a $100 reinstatement fee when re-registering the car. Your driver's license will also be suspended for 30 days and for 90 upon a second conviction. The reinstatement fee for the license is of $50. The court of law may also rule up to 30 days of jail time and/or a fine of not more than $1,500.