Claims
What To Do After Car Accident?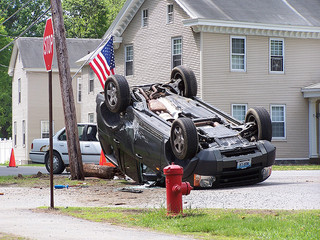 Being involved in a car accident is stressful enough as it is, but your worries are far from being over. Whether or not you were at fault, there will be paperwork to be done, people to talk to and explanations to be given. Brace yourself, it's not the end of the world!
Safety first!
First and foremost, see if there are people who need medical assistance. Call 911 immediately if so!
Clear the area
Once everybody is alright, move the vehicles to the side of the road. Cars left in the middle of the street can block the traffic unnecessarily or cause more serious incidents. If the vehicles cannot be moved, turn on hazard lights and set out triangles and cones. If there is no roadside parking spot, everybody should remain in their cars, with the seatbelts fastened.
Document the damages
Put down all information on how the accident happened. Include plate numbers, car makes, colors and models, drivers' and passengers' names, insurers and policy numbers. Take pictures of the scene, including the damaged vehicles. If there were any eye witnesses, get their contact details as well.
File an accident report
Even though authorities from a lot of states won't come to the scene of an accident if there are no injuries, an accident report must be filed at any police station or you can download a form from the DMV website and mail it in. A police report usually speeds up the claiming process with the insurance company.
File the claim with the insurer
Contact the insurance company and ask about how to file a claim. A lot of companies have a streamlined process and some even let you do it online. It would be best to understand what your policy covers, to save yourself from unnecessary headaches and embarrassing moments.