Basics
Why Do Car Insurance Rates Go Up?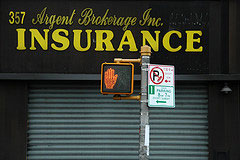 Auto insurance rates can go up for a variety of reasons. In no particular order, here are the most common ones.
Too many claims
It's alright to have a claim every once in a while – some insurers like Allstate even have a so-called "accident forgiveness program" where they bind themselves not to raise your premium if you were at fault in an accident, provided it's your first one. But having too many claims over a short period of time puts you in a risky category, therefore they will charge you more for their service.
Credit score goes down
Insurers evaluate your FICO score periodically and might adjust your premiums to reflect your new standing. A lower credit score means, in their books, that you are not paying your bills on time, hence a higher risk for them that you won't meet contractual terms.
New driver added
If you add new drivers to your policy and they are inexperienced, very young, very old or labeled as "risky", your premium will go up.
New car added
If you add a newer and more expensive car to your policy, the rates will go up. The costs of repairing a new sports car, for instance, are much higher compared to those of a ten year old sedan, hence the higher charges.
Change in local regulations
Some states impose some limits on how much insurers may charge for their service, and these regulations sometimes change. There is not much you can do about it – your state may decide that insurers are allowed to raise their fees.
If your premiums have gone up out of the blue moon even though you have been with the same company for a couple of years, didn't have any claims, drive a safe car and have a decent FICO score, you should inquire about the increase. Some insurers have a less than perfect policy with rewarding returning customers, so maybe it's high time you switched providers.