State By State
Louisiana Auto Insurance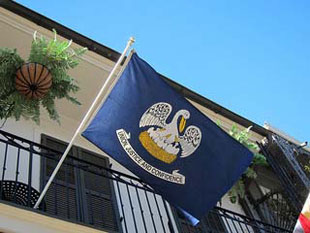 The state of Louisiana uses a Tort insurance system, which means that whoever causes an accident is responsible for covering eventual medical expenses of all injured parties, as well as the property damages incurred.
Minimum insurance requirements in Louisiana
Louisiana requires all drivers to carry, at minimum, a Liability insurance of 15/30/25:
$15,000 in medical expenses per injured passenger, up to a total of $30,000 for everyone involved in the accident;
$25,000 in property damage.
Average insurance premiums in Louisiana
Louisiana is one of the expensive states to be insured in. An average Liability coverage costs $2,323, which is higher than the national average of $1,678. Insurance may be a bit cheaper in other cities – a policy costs, for instance, an average of $2,262 in New Orleans, $2,148 in Baton Rouge, $2,289 in Alexandria, $2,199 in Kenner, $2,257 in Metairie, $1,900 in Shreveport, $2,070 in Lafayette, $2,030 in Monroe or $1,928 in Bossier City.
Cellphone and hands-free regulations in Louisiana
The State Senate Bill #137 forbids text-based communication for drivers who operate a vehicle. Moreover, all school bus drivers and young drivers in the GDL program aren't allowed to use a cellphone altogether when driving. All other categories must use hands-free devices.
Teenage driving regulations in Louisiana
Louisiana uses the Graduated Driver License system, a concept meant to help aspiring drivers gain hands-on experience with driving on public roads while still keeping them safe from risky situations. Teenagers between 15 and 17 can join the program and will be facing some restrictions until they get their final driver's license:
kids younger than 16 must be accompanied by a grown-up with a valid driver's license at all times; once they turn 17, they may drive unattended and carry passengers;
17+ year old drivers are the only ones who may drive between 11 pm and 5 am, but only if accompanied by a licensed driver of at least 21, or a licensed sibling of at least 18.
Violating these restrictions may lead to the extension of the restricted period or the loss of the driving privileges altogether.
Penalties for driving uninsured in Louisiana
Getting caught without a valid insurance policy will lead to a fine of at most $175 or imprisonment for 30 days, or both. On a subsequent violation you may get fined up to $500, or imprisoned for up to 90 days, or both. Your registration and license tags can also be suspended (or revoked) and you will be charged further reinstatement fees.