State By State
New York Auto Insurance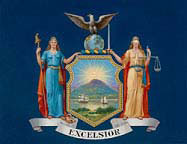 New York uses a No-Fault insurance system, which means that your insurance company will reimburse you for your material losses and cover your medical expenses in the event of an accident, regardless of who was at fault.
Minimal insurance requirements
The state of New York requires all motorists to carry at least the following insurance:
25/50/10 Liability: $25,000 per injured passenger or pedestrian, but not more than $50,000 for the whole accident, as well as $10,000 in property damage;
25/50 UM: $25,000 per injured passenger or pedestrian, but not more than $50,000, if the accident was caused by an uninsured or underinsured driver;
$50,000 in Personal Injury Protection.
Average insurance costs
New York is one of the most expensive cities to be insured in the United States. The average New Yorker spends $2,587 per year on car insurance, whereas the rest of the country spends only around $1,678 per year.
Insurance in large metropolitan areas is among the most expensive in the US: $2,596 in Yonkers, $2,710 in New York, $2,591 in Mount Vernon or $2,602 in New Rochelle. There are, however, cheaper cities in NY. Insurance may cost, for instance, $1,596 in Rochester, $1,583 in Albany, $1,582 in Cheektowaga, $1,769 in Syracuse, $2,061 in Buffalo or $1,673 in Schenectady.
Using a cellphone while driving
New York took stance against distracted drivers since 2001 — you may not engage in phone conversations while driving if you don't use a hands-free device. 2009 marks another restriction — you may not engage in text-based communication while operating a vehicle. No further restrictions are in place as of now.
Teenage driving laws
The state of New York uses a Graduated Driver Licensing system, a concept built to minimize the incidence of high-risk situations among aspiring drivers. To get a provisional license, teenagers must be at least 16 years old, and several restrictions apply:
they may not drive in any parks in NYC;
they may not transport underage passengers unless assisted by a licensed driver of legal age;
they may not drive at night — between 9 pm and 5 am — unless on their way from/to work, school or in case of an emergency
Violations of these restrictions may result in complete loss of driving privileges until the age of 21 or, at best, a delay in licensing.
Penalties for driving uninsured in New York
New York State laws require you to hand over your car plates before your mandatory Liability insurance lapses. Should you fail to do so, the DMV will have your license and your registration certificate(s) suspended. In other words, if you aren't going to keep driving a vehicle and want to cancel or let a policy insurance lapse, you should turn in your plates beforehand.
If you are convicted of operating an uninsured vehicle (or allow someone else to drive it), your driver's license will be suspended for at least one year. The same penalty applies if the DMV receives evidence that you have been involved in an accident while driving an uninsured car, whether or not you were at fault. Most of these revocations come with a $750 civil penalty.
Being caught in traffic without insurance — or underinsured — is also a criminal offense and, upon conviction, you will receive a fine between $150 and $1,500 or jail time of up to 15 days or both.