Claims
What To Do Next If Car Insurance Claim Is Denied?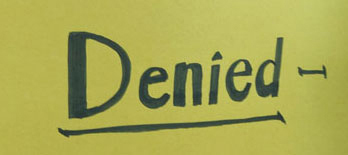 Being involved in an accident is a stressful situation, whether or not you were at fault. But having the insurer deny your claim can and will make things as bad as they can be. It's not the end of the world – here is a short "survival guide" if the insurance company is acting up.
Review your policy
Read your contract all-over again and analyze the insurer's reply to your claim. Chances are the insurance company has a point and the incident isn't covered by your policy. Make sure you read and understand the "fine print" clauses, as they are usually the ones that can make a difference between a full settlement and a denied claim. Consult with a lawyer if you need help with interpreting the legal terms.
Document your point
If you still believe you have a point and the insurer's denial is against the terms of the agreement, gather as much documentation as you can. This includes, but is not limited to, photocopies of the insurance contract, photocopies of the accident report you filed with the police and photos of the damaged vehicle(s). Put yourself in an independent party's shoes – could you be convinced that these documents can prove your point?
Contact the Insurance Information Institute
The III is part of the National Insurance Consumer Hotline (NICH) and is the regulatory institution that can give you further information on what to do. They are the ones in charge of arbitrating complaints like yours. They can be reached at www.iii.org or at 0800-942-4242. Alternatively, you can contact your local DMV for further guidance.
Go to arbitration or file lawsuit
You can choose either one or the other, as decisions taken by an arbitrator or a lawyer are final. Statistics show that settlements through arbitration are smaller than whatever courts award. Arbitration, however, is cheaper and less time consuming, as you won't need to hire a lawyer.
If you decide to go to court, it could be a wise idea to hire a lawyer on contingency (the type of legal representation contract where the lawyers only get paid if they win the case). Be warned that insurance companies will use all kinds of tactics and loopholes to delay the trial and drag the case out.